Very exciting news for us!!
To celebrate the release of our brand new live album and film Performing Parades, we have confirmed a concert on 28 October at the Barbican Hall in London in which we will perform our album Parades (2007) with The Britten Sinfonia. The orchestra previously teamed up with us at this year's fuseleeds09 festival for a performance we will never forget. We look so much forward to play with Britten Sinfonia again!
The show coincides with the release of our Performing Parades CD/DVD and LP/DVD that feature our performance of Parades in Copenhagen last September, with The Danish National Chamber Orchestra. The 55-minute film is directed by Benjamin Hesselholdt, and is accompanied by an audio CD/LP of the full concert.
The DVD will be stuffed full of extras, including a behind the scenes documentary (made by Ralf Christensen and Anders Bötter) of the preparations for the event, and all the videos made for tracks from Parades.
Performing Parades will be released on October 19.
You can buy tickets for the performance in Barbican Hall right here – Barbican.org.uk
The concert is promoted by our good friends from Arctic Circle
yehaa!
- efterklang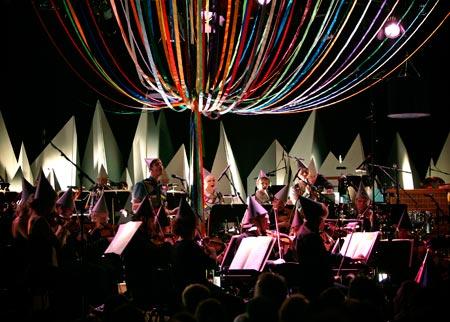 photo by Agnete Schlichtkrull/DR
Posted in Celebration, Concerts, Efterklang